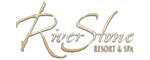 RiverStone Resort & Spa
in Pigeon Forge, TN
212 Dollywood Lane
•
Pigeon Forge
,
TN
37863
About RiverStone Resort and Spa
RiverStone Resort is truly the ideal place to stay while visiting Pigeon Forge. Pamper yourself at the Day Spa with the latest massage therapy, skin care along with hand and foot treatments or relax in the Sauna and Whirlpool. Stay healthy with our state of the art fitness center and our indoor/outdoor pool complex. Enjoy the outdoors by trout fishing and picnicking under the trees by the cascading Little Pigeon River. Kids will have a blast sliding into our lazy river pool, playing billiards and air hockey in our game room or swinging on the playground.
Please note this property does not provide daily housekeeping.
RiverStone Resort and Spa News
RiverStone Resort and Spa Frequently Asked Questions
How many rooms are available at the RiverStone Resort?
The RiverStone Resort in Pigeon Forge has 124 rooms.

How many different buildings comprise your "units"?
The RiverStone Resort has a total of four buildings.

How many floors constitute your property?
The RiverStone Resort has a total of six floors.

How many adjoining rooms are available at RiverStone Resort?
Adjoining rooms are not available at this resort.

Do you have a restaurant on-site? A lounge, café or gift shop?
The RiverStone Resort does not have a restaurant or lounge located on property.

Do you have a minimum age required for check-in?
Guests must be at least 21 years of age to check-in at the RiverStone Resort in Pigeon Forge.

Does the RiverStone Resort charge any fees?
Yes. The resort charges a one-cleaning fee that is collected upon check-in. They are as follows: 1 bedroom - $44.90; 2 bedroom - $67.35; 3 bedroom - $78.57; 4 bedroom - $106.60. Please note daily housekeeping services are not available.

What are the pool hours at RiverStone Resort?
The indoor pool is open 24 hours a day. The outdoor lazy river is open 9am-9pm, April-September.

Is late check-in available?
Yes. Guests may check-in at any time.

Is the RiverStone Resort located on a trolley stop?
No, but they are about one block away from a trolley stop.

All displayed prices exclude Tax Recovery Charges and Service Fees.