Autumn in the Great Smoky Mountains is a beautiful time of year.  The mountains and valleys are painted with stunning colors that light up the Smokies.  Curious about when you should visit Pigeon Forge to see the magnificent Fall colors?  Use our Pigeon Forge Fall Foliage peak color guide for helpful tips on when to go and what to do.
The color in the National Park is varied as there are over 100 varieties of native trees, creating a kaleidoscope of color. As early as mid-September, you'll be able to see color changes in trees above 4,000 feet, with the peak colors present at middle and lower elevations between mid-October and early November.
September
Fall in the Smokies begins in September, with the emerging changes occurring above 4,000 feet. Red, orange and yellow colors can be seen on sourwood, dogwood, maple, sassafras and birch trees.  Drives recommended for September viewing are Parsons Branch Road, Newfound Gap Road and Clingmans Dome Road.
Suggested hikes for seeing the Smoky Mountain foliage in September
Andrews Bald
Mt. LeConte
Albright Grove
Suggested auto tours for foliage in September
October
Early October
Be the beginning of October the mountains of the Smokies are awash in brilliant color.  To see the bold yellows of the American beech and yellow birch to the rich reds on mountain ash, pin cherry and mountain maple trees, the viewing is best on roads including Newfound Gap Road, Heintooga Ridge Road, Foothills Parkway and Rich Mountain Road in Cades Cove.
Suggested hikes for seeing the Smoky Mountain foliage in early October
Sugarland Mountain Trail
Appalachian Trail
Clingmans Dome
Newfound Gap Trail
Suggested auto tours for foliage in early October
Newfound Gap Road
Heintooga Ridge Road
Foothills Parkway West and East
Rich Mountain Road
Mid-October
In mid-October, the Great Smoky Mountains are about a week away from peak color of the lower elevations.  However, the valleys and higher elevations are at a peak.  They are painted with bold reds from black gum, dogwoods, sumac and sourwood trees and golds from the tulip tree, black walnut, birch, beech and hickories.   Recommended scenic drives include Cove Creek Road, Balsam Mountain Road, Roaring Fork Motor Nature Trail, Foothills Parkway and Newfound Gap Road.
Suggested hikes for seeing the Smoky Mountain foliage in mid-October
Lower Mount Cammerer
Baskins Creek Falls
Little River
Old Settlers
Porters Creeks Trails
Sugarland Mountain Trail
Low Gap Trail
Appalachian Trail
Mt. Sterling Trail
Goshen Prong Trail
Suggested auto tours for foliage in mid-October:
Newfound Gap Road
Roaring Fork Motor Nature Trail
Balsam Mountain Road
Cove Creek Road
Late October
The peak colors are very impressive in late October. From low to high elevations, the marvelous colors of fall can be seen through the Great Smoky Mountains National Park. It is not unusual to see autumn color last through the mid-November. Suggested drives are Blue Ridge Parkway, Foothills Parkway and Heintooga Ridge Road to Balsam Mountain.
Suggested hikes for seeing the Smoky Mountain foliage in late October
Rainbow Falls Trail
Alum Cave Trail
Rich Mountain LoopChestnut Top Trail
Smokemont Loop
Kanati Fork
Sutton Ridge Overlook
Suggested auto tours for foliage in late October
Blue Ridge Parkway
Foothills Parkway
Balsam Mountain Road
Heintooga Ridge Road
Newfound Gap Road
Plan a Pigeon Forge Fall Foliage Vacation
Reserve a Smoky Mountain vacation today to experience the beauty of Pigeon Forge fall foliage. There are a wide range of Pigeon Forge vacation packages available or you can create your own package.  Either option allows you to see the splendor of the Smokies in all their beauty.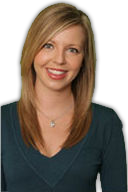 Ashley is Reserve Direct's travel expert, visiting Pigeon Forge to find the best travel tips, money-saving deals and insider information. With over 10 years of experience in first-hand-travel adventures, she shares her stories, advice, and current events to help you stay in the know.